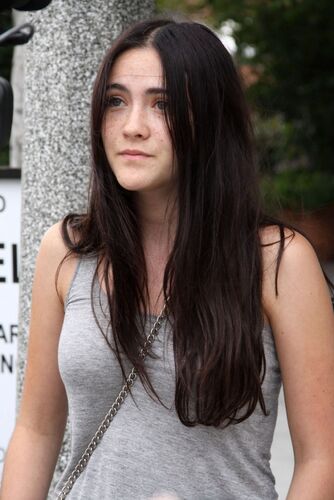 " While we're definitely werewolves, there something else too."- Pandora Borgia
Pandora Borgia is a member of the Borgia Family. She is the middle child, second to her older brother Titus.  She is daddy's little princess and a bit of a technophobe. 
She appears in La Famiglia Borgia.
Information

Name

Pandora Borgia

Age

17

Family

Luciano Borgia(Father)

Baci Borgia(Mother)

Titus Borgia(Brother)

Nieve Borgia(Sister)

Pack

Borgia's

Mate

Billy Bannister

Pack Placement

Beta

Abilities

Normal werewolf

Friends

Billy

Enemies

Alpha pack

Hometown

Naples, Italy
Her father immigrated from Italy when she was younger.  She turned when was 12 and she has embraced lycanthropy.
She met her mate, Billy in grade 9 and she soon realized he was her mate. 
She spent 2 years after that, trying to get his attention. She bit him in early 2013 and he joined her family's pack. 
Personality
Edit
She is a technophobe and is very environmetally friendly. Her family is very dysfunctional, so she has to make sure no one kills eachother. She is closest with her brother Titus,
Ad blocker interference detected!
Wikia is a free-to-use site that makes money from advertising. We have a modified experience for viewers using ad blockers

Wikia is not accessible if you've made further modifications. Remove the custom ad blocker rule(s) and the page will load as expected.